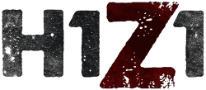 H1Z1 non funziona?
Nessun problema rilevato
In caso di problemi, inviare una segnalazione di seguito.
H1Z1 è una sandbox di sopravvivenza massiccia multiplayer online MMO apocalittico gamepost in cui devi combattere per la tua vita contro un mondo invaso dagli zombi. Sviluppato da Daybreak Game Company e disponibile per Xbox, Playstation e Windows.
Problemi nelle ultime 24 ore
Il grafico seguente mostra il numero di segnalazioni che abbiamo ricevuto su H1Z1 in base all'ora del giorno nelle ultime 24 ore. Un'interruzione viene determinata quando il numero di segnalazioni è superiore alla linea di base, rappresentata dalla linea rossa.
Al momento, non abbiamo rilevato alcun problema su H1Z1. Stai riscontrando problemi o un'interruzione? Lascia un messaggio nei commenti.
I problemi più segnalati:
Gioco online
Mappa in tempo reale delle interruzioni
Le segnalazioni e i problemi di interruzione più recenti sono originati da:
| | | |
| --- | --- | --- |
| Lee | Gioco online | |
| New York City | Log-in | |
| Brooklyn | Log-in | |
| Besançon | Matchmaking | |
| Noëllet | Glitch | |
| Eaubonne | Log-in | |
Mappa attuale
Discussione comunitaria
Suggerimenti? Frustrazioni? Condividi qui. I commenti utili includono una descrizione del problema, la città e il codice postale.
Segnalazioni sui problemi di H1Z1
Ultime interruzioni, problemi e segnalazioni di problemi nei social media:
El Ron De Cuba

(@ElRonDeCubaYay) segnalati

ca revient quand les serveur h1z1 EU les frère ?

Alexandra

(@alexsonier_) segnalati

@JakeSucky Symfuhny has been a flicker since the H1Z1 days and it's never been an issue until now, everyone thinks that everyone is cheating nowadays it's actually pathetic

KO

(@Lilsaboxo) segnalati

@H1Z1 fix and bring the game back!!!!

Hugo

(@Ugo_tc) segnalati

@AvironAlex @SharpeNyo_ @LowAn Perso je m'amuse pas en jouant le top 1, je m'amuse en faisant des kills, et j'en fais plus sous VPN je l'assume. Quand j'étais sur h1z1 à l'époque y'avait pas de sbmm et j'ai appris avec des gars plus forts que moi. C'est pas leur rendre service que de les mettre entre eux

Eleanor Jean

(@LadyHardcore) segnalati

@Ravers @StepBroCy I see that issues with Obey continue years after H1Z1/H1PL. This will not age well.

Michael Absher

(@MAbshernwca) segnalati

@Danucd1 I'll have to watch you play. After H1Z1 and then PUBG I swore I'd never do another "early access" game again. Why? Once they make their $ their less inclined to fix certain things, like, the movement mechanics.

Wyll

(@Wyll2K) segnalati

H1z1 me manque a mort … 😪 J'ai beau passer des centaines d'heures sur d'autre games… j'ai tjrs cette nostalgie de ***** …

LegendsNeveerrDie

(@LegendsNevrrDie) segnalati

@SteveHamaker @DrDisrespect I keep tagging him to get ready for some H1Z1 from KOTK Preseason 3 (Golden days of BR) we have some of it working and will fix some bugs. :)

Shawn M. Smith

(@ShawnMSmith) segnalati

So, in my time away from Warzone, I downloaded H1Z1 for free and I want to know how a game that came out in 2018 can have so many server issues? They've had tons of time to iron that out, right?

Shyflex

(@Shyflex_) segnalati

@TwitchDE H1Z1 aber passt auf seid dem das kaputt gepatched wurde hab ich nie wieder ein würdiges game gefunden

TheSage210

(@TSage210) segnalati

@DaybreakHelp @DaybreakGames Get your **** together @Dcuo and get on those suspended players who y'all suspended because of yalls market place error , Paid memberships are running out and at this point y'all look even more greedy than ever. #KillingYourOwnGame

Will 🐇

(@Pezcore64) segnalati

@nmploltwo play @H1Z1 again p.s. fix your game daybreak

human house centipede

(@theJaypocalypse) segnalati

Then playing H1Z1 at launch. broken game. I hope you have an hour to bat a zombie in the head because that's how long it'll take for the AI to recognize a hit.

Alper Güçlü

(@alperguclu) segnalati

@DaybreakHelp I have tried to login my old mtgo account and I couldn't remember my account details. So I tried the forgot password option. I can't remember the security questions answer so I tried to get help from Daybreakgames support. ++

SilverGlasses

(@Silverglasses) segnalati

@DaybreakHelp was trying to contact you guys but got this error " IP address not permitted " " IP restrictions are enabled " contact zendesk ? Need to get in touch with support asap

TheSage210

(@TSage210) segnalati

@DaybreakHelp @DaybreakGames My account has been suspended on @dcuo I think and I have not received any email or contact back from your support team , there was a recent market place issue that had a item for 1 market place cash and people bought them just to get suspended or banned. My ticket #1149819

Greug2814

(@greug2814) segnalati

@DaybreakHelp Please help me! Customer service deleted my account over a week ago. I asked them to delete a second account but they deleted all of my accounts and won't respond to any messages! I need help to get my account back

TM (TillaDaKilla)

(@tlmaxey13) segnalati

@DerrickFarbes @PlayOverwatch H1Z1 was a trainwreck. Even if you could get in, there were hardly any items, guns, anything. It was like that for weeks afterwards, even if the servers allowed you in OW2 is up. I had no problem getting in this evening, and full servers are accessible for most within 24 hours.

Dr_KazoWho

(@DerrickFarbes) segnalati

@tlmaxey13 @PlayOverwatch Diablo 3 was not down for almost 2 days But 2 of those games are blizzard so that's the " ddos " excuse so irrelevant And H1Z1 you only talking about time down but I asked for all issues combined

Neiloch

(@NeilochGaming) segnalati

@ChefLuBu_ATL Oh yeah, the entire catalog of SOE online games were down for days after being DDOS'd over some h1z1 nerf.

ジ Jc - *********

(@JaayOnPC) segnalati

But like if there is nothing happening in a game why ******** should the cpu usage be so damn ******* high?.. Battleroyale games like h1z1 kotk in old days with 200 people was never having those issues and that was on a ****** stock out of the box spec intel core i5 4670k

diinokai.eth

(@diinokai) segnalati

@TurtleBeach ow2 not working, destiny 2 nerfing fun in the game, fortnite adding rocket league, fifa 23 is actually fun this year, apex still undefeated, cod is close on making a comeback but won't add dead silence as a perk and increase ttk, h1z1 is still dead

Cody Cummins

(@judo4life90) segnalati

Unpopular opnion: @H1Z1 needs a revitalization and come to @Xbox. Game is actually incredibly fun when I played it on PS4 when it first came out, then it unfortunately died. @DaybreakGames remake it and fix some of the issues, I believe.

Cyril Khanouna

(@SiccaElpirate) segnalati

J'aimerais vraiment savoir si il va y avoir une saison 10 pour @H1Z1 sur PlayStation ? Et si quelque sera fait pour repeupler le serveur européen. @daybreak @DaybreakGames Cordialement, au nom de tout les joueurs de H1Z1 BR

//INCOG_NITRO//

(@Incog_Nitro) segnalati

@Steam #steamdeck i deleted windows today and installed steamos again. Since then I can't play any multiplayer games. always server error. Help? #h1z1 #shatterline

You 'MFD' Virgin

(@YouVirginn) segnalati

@xCamrin @Ryhzer Wouldn't have these issues on h1z1

BenJ

(@FabolousBenJ) segnalati

Je suis allé regarder des anciennes rediffs de stream que j'avais fait sur CS:GO, h1z1, Minecraft etc... Je me demande si le BenJ de maintenant est pas en train de regretter d'avoir tout arrêté, les ambiances de live me manque vraiment et j'aimerai tellement pouvoir y renouer..

Luffy117Wright

(@SquidboyINK) segnalati

@Vivitoune H1Z1 ça pue la *****

𓄂 SKUZZ

(@ohSkuzz) segnalati

@itsHunterTV @ModernWarzone You have never played video games then my friend. The souls series this is done in pvp often. Was a issue in MW2 3pp DayZ 3pp is plagued with wallpeakers Gears Arma Any br (h1z1-pubg-Fortnite) There is a reason fps multiplayer games are much more common.

Harkirat

(@Harkira10525364) segnalati

@videotech_ @Gilbertbelieve2 Something like a survival coop open world (H1Z1 inspiration) would be insane for Factions. Maybe I'm getting my hopes up, or maybe not at launch but they'll add it later down in the pipeline since it's live service.